On archives, on an archive. The "Foucault exception"?
Des archives, de l'archive. L'« exception Foucault » ?
Is there a specificity peculiar to the "Foucault archives" that makes them a sensitive object for philosophical and critical thought today? Can we use the "Foucault case" to reflect more broadly on the question of the philosophical archive / archives – what does the creation of archives for philosophers imply in terms of the reception and re-actualisation of their thought? In this article, we will start with a description of the multiple Foucault archives existing today and the history of their composition, as well as an initial discussion of their possible uses. We would then like to start from the concrete, material experience of the archives in order to ask a question that is more than methodological, ethico-political: would there be a "good use" (and therefore a "bad use") of the archives of and by philosophers? More specifically, is there a "Foucaultian exception" which would require the Foucaultian, and probably philosophical, archives to be used in a broad sense, in a "different" way? We will plead for the construction of an ethic which is rather an "aesthetic" of the philosophical archives: the ability to bring out through the work on archives not something like "the good and true identity" of their author, but points of diffraction, unexpected faces, new writings.
Fichier principal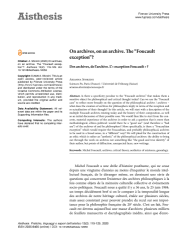 Sforzini_On the archives.pdf (275.32 Ko)
Télécharger le fichier
Sforzini_On the archives (1).pdf (275.32 Ko)
Télécharger le fichier
Sforzini_On the archives (2).pdf (275.32 Ko)
Télécharger le fichier
Origin : Publisher files allowed on an open archive