Generación de incertidumbres: jóvenes, escuela e inserción profesional en México.
Génération d'incertitudes : jeunes, école et insertion professionnelle au Mexique
To imagine school as the most important factor of emancipation in the context of poverty is deeply inserted into the collective mind. In Southern countries, this trust given to schools is even more important, because it is the only way out of poverty, especially among young people. Nevertheless, in the binomial distribution – employment is more than ever questionable, especially in the socioeconomic context where finding a job is rare and the job itself is precarious. This article is about two important aspects, including structural aspects of lives of young people in the context of poverty. On one hand, we are interested in the school system, seen as a promise of social upgrading. The investigation focused on the analysis of the "Bachilleratos Técnicos" (technical high schools), because these receive the highest number of socioeconomically disadvantaged students. On the other hand, we are interested in the job market to compare the expectations of young adults in the socioeconomic context of the country. What are the expectations that lead them to continue their education, knowing that their parents were not academically trained? We also wonder if the series of problems that confront young adults echo the government's public policy.
Imaginar a la escuela como el factor de emancipación más importante en contextos de pobreza se encuentra profundamente inserto en el imaginario colectivo. En los países del Sur, esta confianza en la escuela es todavía más importante, pues representa la única puerta de salida de la pobreza, sobre todo para los jóvenes. Sin embargo, el binomio formación- empleo es más que nunca puesto en duda, particularmente en contextos socioeconómicos en donde el empleo es raro y precario. Este artículo trata dos aspectos importantes, incluso estructurantes, en la vida de los jóvenes en contextos de pobreza. Por una parte, nos interesamos en el sistema escolar, visto como una promesa de ascensión social. Focalizamos el análisis en los bachilleratos técnicos, pues ellos acogen al mayor número de jóvenes escolarizados de clases desfavorecidas. Por otra parte, nos interesamos en el mercado de trabajo para confrontar las expectativas de los jóvenes en el contexto socioeconómico del país. ¿Qué expectativas les llevan a continuar los estudios, sabiendo que sus padres no estuvieron, en su mayoría, escolarizados? Nos preguntamos también si la problemática a la que son confrontados los jóvenes encuentra eco en el gobierno a través de políticas públicas.
Penser l'école comme facteur d'émancipation dans les contextes de pauvreté est profondément inséré dans l'imaginaire collectif. Dans les pays du Sud, cette confiance à l'égard de l'école est encore plus manifeste, car elle représente souvent la seule porte de sortie de la pauvreté, surtout pour les jeunes. Cependant, le lien entre formation scolaire et accès à l'emploi est plus que jamais remis en cause, notamment dans des contextes socio-économiques où l'emploi est rare et précaire. Cet article s'intéresse à deux aspects importants, voire structurants, de la vie des jeunes issus des milieux modestes. D'une part, nous nous intéressons au système éducatif, vu comme une sorte de promesse d'ascension sociale. Nous ciblerons notre analyse sur les écoles techniques puisque ce sont elles qui accueillent le plus de jeunes scolarisés issus des classes défavorisées. D'autre part, nous nous intéressons au marché du travail, pour confronter les attentes des jeunes au contexte économique du pays. Quelles attentes les poussent-ils à faire des études, sachant que leurs parents n'ont pas été, pour la plupart, scolarisés? Nous nous demanderons également si la problématique à laquelle les jeunes sont confrontés retentit au sein du gouvernement.
Fichier principal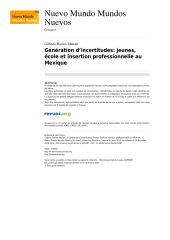 Generation d'incertitudes. Jeunes, école et insertion professionnelle au Mexique.pdf (527.51 Ko)
Télécharger le fichier
Origin : Files produced by the author(s)