Characterization of bioaerosols emitted by anthropized soils: quantification and composition of fungal and bacterial communities.
Caractérisation des bioaérosols émis par les sols anthropisés: quantification et composition des communautés fongiques et bactériennes.
Soils are a major interface for the exchange of matter and gases with the atmosphere. They are also immense reservoirs of microbial biodiversity, including human pathogens. This raises the question of whether anthropized soils are sources of biological aerosols that have been underestimated and insufficiently taken into account in models for predicting outdoor air quality. It has recently been shown that human activity increases aerosol emissions through soil disturbance, particularly in agricultural areas. External forces such as wind and the impact of raindrops on the soil, as well as soil texture and moisture, appear to play an important role in the emission of bioaerosols of soil origin. The microorganisms associated with emitted particles of size < 3.5 µm represent a risk to human health, as these fractions are easily airborne and can penetrate the respiratory tract to the alveoli, generating cases of asthma, rhinitis and chronic bronchitis. To study the distribution of microorganisms in the different size fractions of bioaerosols in agricultural areas, atmospheric samples were collected close to the ground with a cascade impactor (Model 120 MOUDI II), in winter 2020-2021 at the SOERE - EFELE observatory (INRAE, Allenvi). Fungal and bacterial communities were quantified by real-time PCR and their composition analyzed by high-throughput sequencing. The results show a wide biodiversity and that microorganisms are distributed differently across bioaerosol size classes. In order to gain a better understanding of the factors and mechanisms involved in the emission of bioaerosols from land-based sources, an aerosolization tunnel was built.
Les sols constituent une interface majeure d'échanges de matières et de gaz avec l'atmosphère. Ils sont aussi d'immenses réservoirs de biodiversité microbienne incluant des pathogènes pour l'homme. Alors se pose la question de savoir si les sols anthropisés sont des sources d'aérosols biologiques jusqu'alors sous-estimées et insuffisamment prises en compte dans les modèles de prédiction de la qualité de l'air extérieur. Or il a été montré récemment que l'activité humaine augmente les émissions d'aérosols par perturbation des sols, notamment en zones agricoles. Des forces externes telles que le vent et l'impact des gouttes de pluie sur le sol, la texture et l'humidité du sol semblent jouer un rôle important dans les processus d'émission de bioaérosols d'origine tellurique. Les microorganismes associés aux particules émises de taille < 3,5 µm représentent un risque pour la santé humaine car ces fractions sont facilement aéroportées et peuvent pénétrer dans les voies respiratoires jusqu'aux alvéoles et générer des cas d'asthme, de rhinites et bronchites chroniques. Afin d'étudier la répartition des micro-organismes dans les différentes fractions de tailles des bioaérosols en zone agricole, des échantillons atmosphériques ont été collectés proches du sol avec un impacteur en cascade (Model 120 MOUDI II), en hiver 2020-2021 sur l'observatoire SOERE - EFELE (INRAE, Allenvi). Les communautés fongiques et bactériennes ont été quantifiées par PCR en temps réel et leur composition analysée par séquençage haut-débit. Les résultats montrent une large biodiversité et que les microorganismes se répartissent différemment sur les classes de taille des bioaérosols. Afin de mieux comprendre les facteurs et mécanismes d'émission des bioaérosols d'origine tellurique, un tunnel d'aérosolisation a été construit.
Fichier principal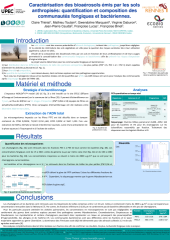 Poster-Therial-AFEM21.pdf (778.63 Ko)
Télécharger le fichier
Origin : Files produced by the author(s)
Licence : CC BY NC ND - Attribution - NonCommercial - NoDerivatives